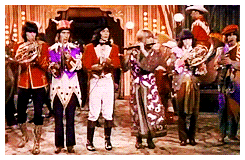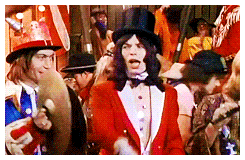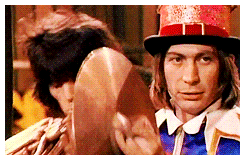 Ideado por Mick Jagger y Keith Richards, "The Rock And Roll Circus", fue un especial programa televisivo en color de 1968, que nunca fue emitido hasta que salió de un granero en Inglaterra en 1996. El programa-concierto consistía en números circenses y actuaciones de los grupos invitados.
Entre presentaciones y números circenses por orden de entrada aparecen los legendarios Jethro Tull con su inolvidable tema "Song for Jeffrey", de su primer disco "This Was". Espléndida formación, los primerizos Jethro Tull, una banda muy sólida, con un Ian Anderson incontestable y el virtuoso guitarrista Mick Abrahams, que poco tiempo después abandonaría los Tull para formar "Blodwyn Pig".
The Who, con una actuación de la extensa "A Quick One While He's Away", del disco "A Quick One", en el que realizan una excelente mezcla de pop rock exuberante que ya vislumbraba retazos para una próxima ópera rock.
Taj Mahal con su "Ain`t that a loto of love" procedente de su álbum "The natch´blues", obra básica de rock-blues con músicos como el indio Jesse Ed Davis.
También excelente, la actuación de Marianne Faithfull con su balada "Something Better". Y a continuación, el momento culminante y más sobresaliente de este Rock And Roll Circus, es una banda denominada "The Dirty Mac" formada por John Lennon (guitarra y voz), Keith Richards(bajo), Eric Clapton (guitarra principal) y Mitch Michell (batería de Jimi Hendrix), interpretando de una manera antológica el tema de los Beatles "Yer Blues".
Yoko Ono haciendo una jam con Dirty Mac y un extraordinario violinista llamado Ivry Gitlis. Para finalizar, un mini concierto de los Rolling Stones, aún con Brian Jones en sus filas, que poco después fallecía ahogado en su piscina.
Interpretan seis temas de en aquellos tiempos su último disco, "Beggars Banquet", plagado de clásicos, comienzan por "Jumping Jack Flash", llegará el blues, "Parachute Woman", "You can´t always get what you want" y el clásico entre clásicos "Sympathy for the Devil", con un Keith Richards muy serio y haciendo gala de un virtuosismo ya de sobra conocido .
-Jethro Tull
Ian Anderson - voz, flauta
Glenn Cornick - bajo, armónica
Clive Bunker - batería
Tony Iommi Black Sabbath - guitarra
-The Who
Pete Townshend - voz, guitarra
Roger Daltrey - voz
Keith Moon - batería, coros
John Entwistle - bajo, coros
-Taj Mahal
Taj Mahal - voz
Jesse Ed Davis - guitarra
Gary Gilmore - bajo
Chuck Blackwell - batería
Marianne Faithfull voz
-The Dirty Mac
John Lennon - voz, guitarra
Eric Clapton - guitarra
Keith Richards - bajo
Mitch Mitchell - batería
Yoko Ono - voz
Ivry Gitlis - violín
-The Rolling Stones
Mick Jagger - voz
Keith Richards - voz, guitarra
Brian Jones - guitarra
Bill Wyman - bajo
Charlie Watts - batería
Nicky Hopkins - piano
Rocky Dijon - percusión
David Dalton's written historic introduction (0:33)
"Entrance of the Gladiators" (Julius Fučík) - Orchester /
The Rolling Stones Rock and Roll Circus Parade /
Mick Jagger's introduction of Rock and Roll Circus (2:10)
Mick Jagger's introduction of Jethro Tull /
"Song for Jeffrey" (Ian Anderson) - Jethro Tull (3:43)
Keith Richards's introduction of The Who /
"A Quick One While He's Away (Pete Townshend) - The Who (7:40)
"Over the Waves" (Juventino Rosas) - Orchester (1:20)
"Ain't That a Lot of Love" (Willia Dean Parker, Homer Banks) - Taj Mahal (3:52)
Charlie Watts' introduction of Marianne Faithfull /
"Something Better" (Barry Mann, Gerry Goffin) - Marianne Faithfull (2:37)
Keith Richards's introduction of Danny Camara /
"Fire Eater and Luna (Donyale Luna)"(1:28)
Mick Jagger and John Lennon's introduction of The Dirty Mac (1:05)
"Yer Blues" (John Lennon, Paul McCartney) - The Dirty Mac (4:26)
"Whole Lotta Yoko" (Yoko Ono) - Yoko Ono, Ivry Gitlis, The Dirty Mac (5:03)
John Lennon's introduction of The Rolling Stones/
"Jumping Jack Flash" (Mick Jagger, Keith Richards) - The Rolling Stones (3:38)
"Parachute Woman" (Jagger, Richards) - The Rolling Stones (2:57)
"No Expectations" (Jagger, Richards) - The Rolling Stones (4:07)
"You Can't Always Get What You Want" (Jagger, Richards) - The Rolling Stones (4:27)
"Sympathy for the Devil" (Jagger, Richards) - The Rolling Stones (8:52)
"Salt of the Earth" (Jagger, Richards) - The Rolling Stones (4:56)
Credits, to the sound of "Salt of the Earth" (2:45)